Description
Description:
AUTOOL BT760 Color Screen Car Battery Tester is designed with color screen and easy printer for better using experience. Adopting the advanced conductance testing technology, BT760 provides you with accurate testing results and prints it in seconds.
AUTOOL BT760 6-32V Car Battery Load Tester Features:
[MAX LOAD & CRANKING &BATTERY& CHARGING TEST]: By using AUTOOL BT760 Color Screen Car Battery Tester, you will be able to inspect the overall health of your battery and perform a complete system charge test. Identifying battery status Good or Replace, and detecting common faults of the vehicle starting system and charging system quickly with advisable solution.
[COLOR SCREEN &ONE-CLICK DATA PRINTING]: With built-in thermal printer, you can get a diagnostic receipt in seconds and share it with your customers, which only needs one press. With its color screen and unique pattern design, it will be easier to view data.
[EXTENSIVE APPLICATION & SAFETY]: Test standards include most battery standards in the world, CCA IEC EN DIN JIS and OTHER SPECIES. Super wide range pro tester rated from 100 to 3000 CCA. Compatible with cars, motorcycles, trucks, RVs, ATVs, SUVs, boats, yachts, mowers and even golf carts. With Polarity Reverse Protection, both the battery and device won't be damaged.
[MULTI-LANGUAGE SUPPORT]: 12 Languages are available. Available in English, Portuguese, Turkish, German, French, Russian, Chinese, Korean, Japanese, Spanish, Italian and Thai.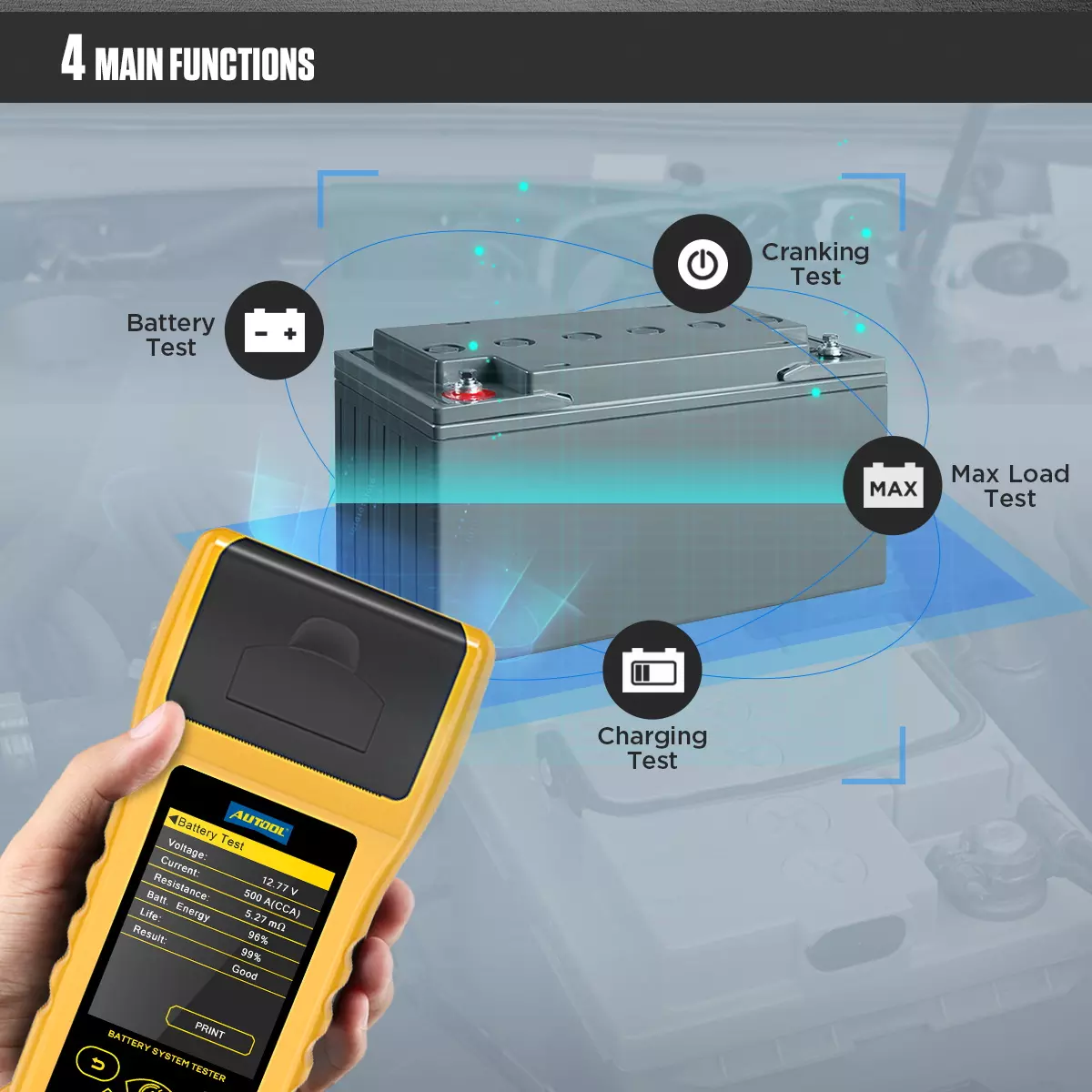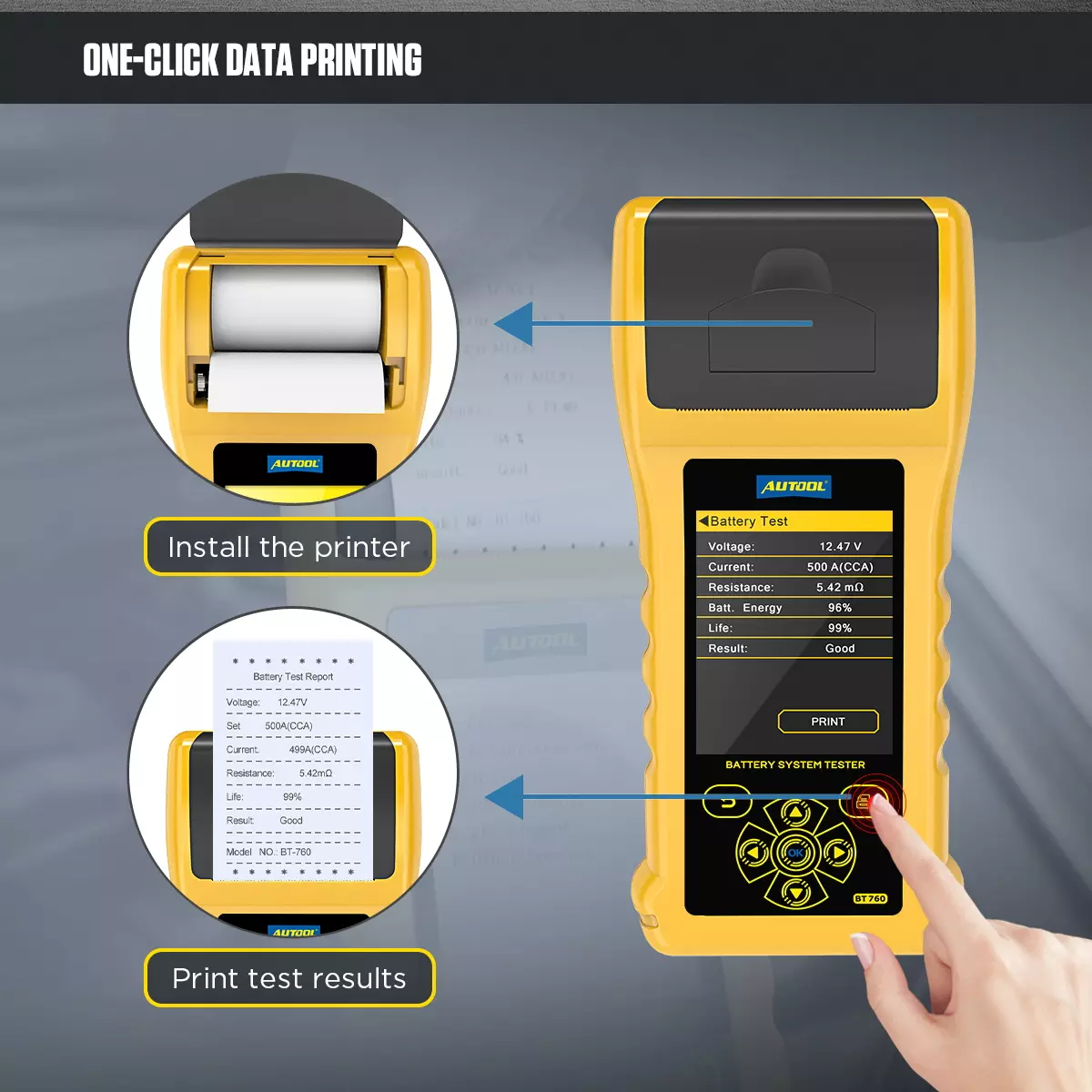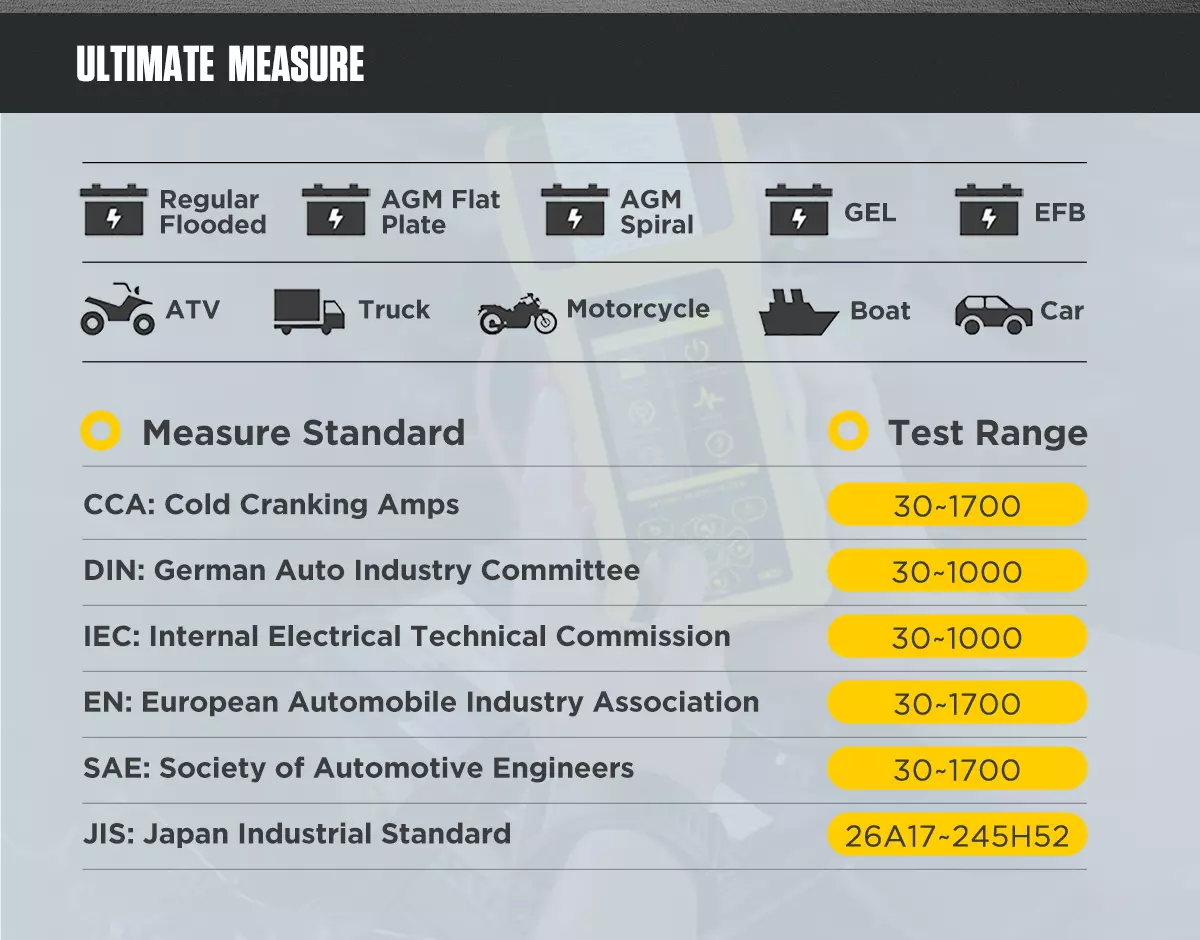 Five Functions Test Operation Steps of AUTOOL BT760 Color Screen Car Battery Tester
Step 1. Connect the 12V battery, red clips to positive pole and black clips to negative pole.
Step 2. Battery Test: Firstly select the type of battery to be tested, then the test criteria and the test range, and then you have the results within few seconds.
Step 3. Cranking Test: After selecting the cranking test function, follow the prompts to start the engine. Test completed.
Step 4. Charging Test: After entering the charging test function, follow the prompt to increase the speed to 2500 RPM for 5 seconds, then press OK. Test completed.
Step 5. Max Load Test: Select the max load test function, turn on the car's electrical appliances, start the car engine and click OK.